As part of the blog tour for the release of The Return Man (for which you can find my review here), VM Zito has kindly agreed to answer a few questions on the blog! The Return Man is a zombie novel with a twist (or several), and it's highly recommended - go check it out!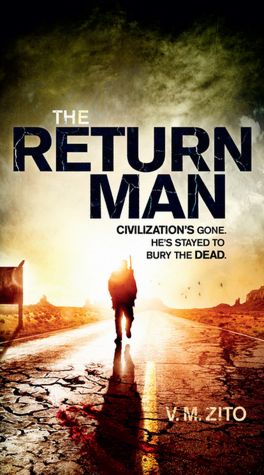 1.

The Return Man

combines a zombie novel with a uniquely emotional climax - sometimes a rarity in the subgenre. Have any other authors particularly inspired your approach?
I'd have to say Ray Bradbury in that regard, one of my writing heroes. He's among the greatest genre authors of all time, but really his stories aren't about sci-fi or horror. They're about people, and the genre elements serve to tell the character's story -- somebody identifiable and sympathetic, with real emotions. A perfect example is Bradbury's "All Summer in a Day." Yes, it takes place on Venus, but only as a crucial backdrop to the heart-breaking ordeal of a young girl. While writing THE RETURN MAN, sometimes I'd remind myself: You're not writing about zombies. You're writing about a man dealing with tragedy.
2.

The Return Man

was originally a serial novel - how much did you change about the book between its initial release and its new publication? And as for the interesting format, do you ever intend to experiment with it again?
There were a few notable changes from what I'd planned. I'd outlined the novel at the start, but about a third of the way through the chapters, I suddenly had a new idea; it added another layer to the relationship between the characters and raised the stakes for everybody. It also meant going back and doing some rewriting, but it was worth it, no doubt. Along the way, I also expanded a few sequences in the original chapters, added extra details to the story world. Anyone who might have read the first six chapters online should definitely start the published novel from Page 1. There's new stuff you'll need to know!

As for the format, it had pros (like immediate exposure and motivation from readers) and cons (like inflexible weekly deadlines that can take over the creative process if you're not careful). In the future, I'd like to use the online medium to release new short fiction from time to time, but for my next novel, I'll hopefully take a more traditional, straight-to-the-publisher approach.


3. Which character did you find most enjoyable, interesting, or just plain unusual to write?
I always enjoyed the chapters told from Wu's point of view; he's the Chinese assassin sent to intercept the hero Henry Marco. Early on, the book sets up the expectation that Wu is the "bad guy", but I never saw him that way. He's a foil to Marco, but his goals are really just to serve his country and honor his family. Wu's perspective was interesting to me; I liked being able to show readers the side of him that we don't see in the chapters told through Marco.

4. Aside from your own release, are there any 2012 novels you're anticipating?
I'm still catching up on a stack of books from 2011, but looking ahead... I've recently gotten hooked on the NIGHTFALL series by Stephen Leather, a great occult horror-thriller. The third book, NIGHTMARE, comes out later this year.

I'm also curious to check out IMMOBILITY by Brian Evenson, sort of a post-apocalyptic mystery noir which looks pretty cool.
5. The novel ends with - to avoid spoilers - a bit of a hook: do you have any plans to return to the Evacuated States for another novel?

I wrote THE RETURN MAN with the idea of another book somewhere in the future, since there are still millions of grieving survivors who need Henry Marco, and that means millions of possible tales to tell. And the fate of the Evacuated States has yet to be revealed. Until then, I'm also plotting another unrelated novel, something spooky and supernatural.

6. Given the choice, ebook or hardcopy?
Hard copy, please. I've given the Kindle a shot, but it just doesn't give me the same satisfactory experience. I like the paper and heft of a book. I'm a bit of a luddite. In THE RETURN MAN, Marco refuses to own a cell phone. That idiosyncrasy happens to be based on me. (Although I finally broke down and bought an iPhone last summer. It was my own personal apocalypse.)


7. There's quite a few zombies in fiction nowadays. Which would be your top recommendations for new readers?

Let's see... My list is a bit predictable. WORLD WAR Z by Max Brooks is required reading. AUTUMN by David Moody is definitely my kind of zombie novel, full of dread and uneasy anticipation that finally boils over (and continues into several other books). And if anyone hasn't read I AM LEGEND (although it's vampires) by Richard Matheson, I really recommend checking it out. Matheson is a master of horror, and George Romero acknowledges that I AM LEGEND inspired the zombie apocalypse.
Thanks! The Return Man was released on the 29th March from Hodder. It's a great book, and you can find it here: UK US