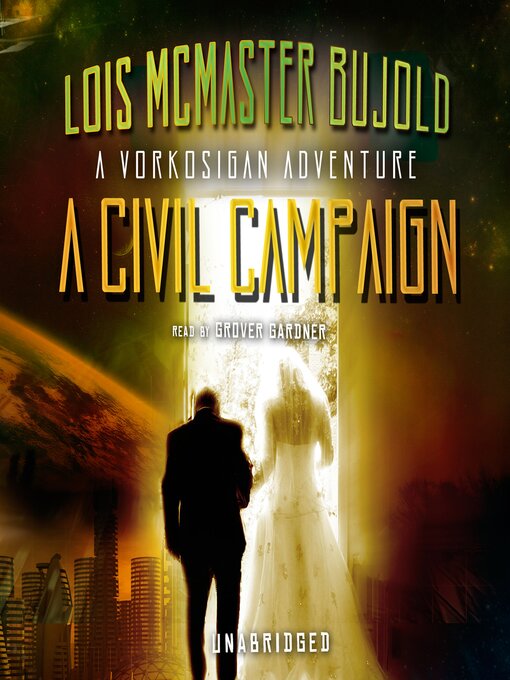 Again, image taken from the audiobook to save your eyes from obliteration. Really. At any rate! Skipping ahead slightly on my Vorkosigan readthrough - I've already reviewed a few of the intervening novels (which you can view by clicking the 'Lois McMaster Bujold' tag on the bottom of the post) -
A Civil Campaign
became my next target. One of the lightest reads of the series,
A Civil Campaign
is exactly what it describes: Miles applies his military tactics to a social engagement... With limited success, as you might imagine.
Returning to the setting of Barrayar,
A Civil Campaign
is set shortly - very shortly - after the events of
Komarr
. With preparations for the Imperial wedding already in progress, the capital is in a state of flux: socially as well as otherwise. Miles Vorkosigan intends to woo Ekaterin Vorsoisson... The problem being that she's the only one who doesn't know about it. And is in mourning for her late husband - whose death rumour pins on Miles... The ever-amusing Ivan, meanwhile, is in similarly perilous - or at least embarassing - straits. He's been press-ganged as adviser for a bid for Countship which looks to be setting itself against all of Barrayar's traditions... (But
how
would spoil a truly excellent moment - so I'll stay silent on the matter). Mark, Miles' clone brother, is trying out entrepeneurship for a change. Flying home from Escobar with a scientist who's jumped bail, he's brought with him some truly unusual creatures, which he hopes could make a fortune. Unfortunately, there are more than a few
personnel
issues to deal with first...
And naturally, and in true Bujold fashion, all of these schemes collide. Dramatically.
A Civil Campaign
features most of the Vorkosigan series' most memorable characters, and as such it's also one of the most amusing novels in the series - especially with the political intrigue, which is resolved... Interestingly.
My brief summary may give you the impression of a hefty dose of vaguely romantic cliche: not a bit of it. While the initial setup seems like it could lead in that direction, Bujold readers will know that stereotypes are rarely left unturned; cliches seldom played straight - and this is no exception. Miles' attempts at romance are structured as a military campaign - which as you can imagine has some rather gaping problems. Though these were amusing (though embarassing - if you don't have a high threshold for that, you may have to skip a scene or two), I preferred the intrigue occurring between the Counts. The series has alluded to interesting moments in Barrayaran politics since it began, and to finally see more of them that just a single scene is one of the most satisfying aspects of the book.
A Civil Campaign
, like
Komarr
and unlike every other Miles novel, switches viewpoints between Miles and Ekaterin - but this time, adds Ivan as well. Ivan is lazy as ever and hilarious despite (and perhaps because of) it, but Ekaterin, though a strong female figure, simply can't match up to Miles and Ivan for sheer character. It doesn't help that her side of the plotline is by far the least interesting: for the most part the unwitting object of Miles' affections, though engaging in some tactical manoevre of her own to keep custody of her son. I think part of it is she's simply far less proactive than Miles, and unlike Ivan, nobody is around to drag her deeper into a more interesting set of circumstances.
Despite this minor weakness,
A Civil Campaign
shows us long awaited sequences in the series, and offers a great deal of entertainment on its own merit. It has more than a few references, so long-term readers will get far more out of it than those new to the series, but this is definitely a recommended read: an example of how even well-done circumstances can be twisted around to become one of the
weirdest
dramas of the series.
In a good way, of course.
You can find it here:
UK
US