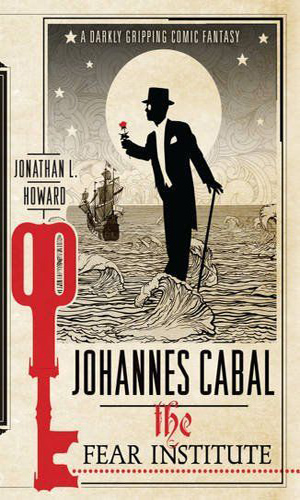 Necromancers: dark, depressing, drearily-dressed, and contact with said frequently leads to defenestration. Can I stop alliterating now?
So, find one as our protagonist? It's original - and it works. Johannes Cabal is a necromancer, his blend of cold blooded (or as he's politely labelled by an employer,
sang froid
) pragmatism, love for the scientific method, and a certain measure of magic - or sufficiently advanced technology - having kept him in business. Ie. away from the nearest stake.
Cabal's faced challenges before in Howard's comic fantasies - hilarious ones. He's won his soul back from the devil, and done his bit as a detective. He still, however, hasn't found how to truly bring back the dead. So when he's employed by the Fear Institute to venture into the Dreamlands in search of the embodiment of fear, Cabal sees opportunities! The Dreamlands have been the province of poets, dreamers and mystics for too long: as the blurb puts it:
'Well, those halcyon days are over, beatniks. Johannes Cabal is coming'
From the moment I read the foreword (warning of dire insanity and pointless crabs), to the (much later) minute I closed the novel, I was completely engaged. Cabal's unique viewpoint is hilarious, especially once he enters the Dreamland - the epitome of irrationality and something he does, of course, get to complain about. A lot. Just watching Cabal attempt to apply the scientific method in a world where not even space and time are continuous, and up is frequently down depending on who's dreaming it - well, it never fails to amuse.
There's also a lot more imagination: the bizarre environment of the Dreamlands gives Howard an opportunity to showcase just how weird and wonderful Cabal's word can get. Dreffs - animals which manipulate the wood they live in, and (memorably) get trained to operate the world's best peg leg...
It's not all fun and games, of course - even in comic fantasy. The cover claims
The Fear Institute
as both 'dark' and 'gripping': both of which it surely lives up to. Cabal has been getting development over books one and two, and it's starting to show - and the expedition for the Phobic Animus certainly isn't all it seems. There's a mystery in play, and with Cabal attempting to get to the bottom of it... It makes for an interesting ending.
While the novel slows down slightly near the end, the ending itself took me entirely by surprise - and in hindsight, really works. It's reminiscent of Sanderson's endings: the clues are there, but how they tie together will defy expectation. There's a hook for the sequel to die (and in this series, be messily resurrected) for. This is comic fantasy written by one of the wittiest genre voices of recent years - and within its scope, I can't fault it.
10/10
You can find it here:
UK
US
Have you read this book, or plan to? Comment and tell me below!