There's hardly a paucity of armies in SFF: in fact, you can hardly miss them. From Daenerys' Unsullied in ASOIAF to the Bonehunters of the Malazan Book of the Falllen, there's plenty to pick from. So, of course, I am duty-bound to pick one or two as a subjective 'best of an awful lot'... And invite all of you to tell me yours. So, here are my two favourites:
Onearm's Host
From: The Malazan Book of the Fallen
Let's be fair, here: what Malazan fan
hasn't
wanted an account of more Bridgeburner exploits?
Nevertheless, Memories of Ice takes Onearm's Host into a new arena of awesomeness: an army outlawed by their own Empress and forced against a fanatical crusade - and undead K'Chain Che'Malle. (Some of which have blades for hands. Really.) In all honesty, though, it's the way in which the Host doesn't always succeed that lures us on: Erikson isn't shy about killing off our favourite characters in ways which make us wish for Martin's gentle touch.
There are plenty of rewards for the readers. Devious and frequently just plain nasty, the veteran Bridgeburners might be amusing characters, but they're legendary for a reason. It's in Memories of Ice we get to see why.
(I mean, dropping munitions from gigantic dragonflies - what more can I say?)
The first book in the Malazan Book of the Fallen is Gardens of the Moon - and if you haven't read it already, I seriously advise checking it out. If you have? Read it again.
You can find it on Amazon here:
Gardens of the Moon (Malazan Book of the Fallen)
The Night's Watch
From: A Song of Ice and Fire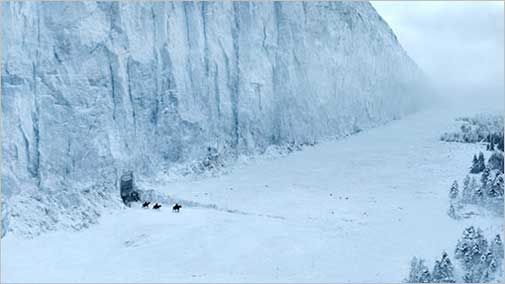 Despite the prevalence of armies in
A Song of Ice and Fire
, picking a favourite is easy: the Night's Watch.
Intended to protect the Seven Kingdoms from incursions across the Wall - a massive construction of ice spanning the neck of the continent - the Watch becomes a sentence for petty criminals. Nevertheless, the threats beyond the Wall are growing in the series, and with this particular army both undermanned and crewed largely by criminals unwanted by the rest of the continent... Well, let's just say we get to see its Lord Commanders perform a tricky balancing act. Do they succeed? Well, I won't spoil you that way.
From the first words of the Night Watch's vow to the ranging beyond the Wall, the Watch is one of Martin's most interesting creations: and I can't wait to see what happens to it next.
And knowing Martin? Who dies next.
If you haven't yet read
A Game of Thrones,
you can pick it up here:
A Game of Thrones: A Song of Ice and Fire: Book One
So, what are your favourite fantasy armies - be they from LOTR or WOT? Comment below and tell me!