I don't normally review art here on Drying Ink, but I have to make an exception for this: I mean, however cliched their portrayal is sometimes, what fantasy fan doesn't secretly squee a little when there's a dragon? Well, here's an art book full of them: and remarkably originally, in fact. Just look below:
(Steampunk + Dragon = ...Annihilation of the Northern Hemisphere with Awesome?)
Steampunk dragon, anyone? At any rate, you see my point: the originality isn't limited to the style, and the dragons here draw inspiration from a number of sources to create their variety! And if you consider that 49 artists contributed to the anthology: well, you can count on variety. And if you're interested in the creative process, there's a short interview with each of the artists, as well as their online identities. So if you enjoy one artist in particular, you can quickly find more of their work - which is actually rather useful.
(There's a lot of space devoted to each artist - no 'compressed image' worries here'!)
It's priced at $17.45, and while that might sound like a lot, you're getting 120 full-size (well, maybe not quite full size - some of those dragons are bigger than houses!) colour dragons, not even mentioning the interviews and bios. So for what it is, it's actually rather inexpensive! Though you've got a chance to get it for free - I've got a giveaway coming up, so check back here for details.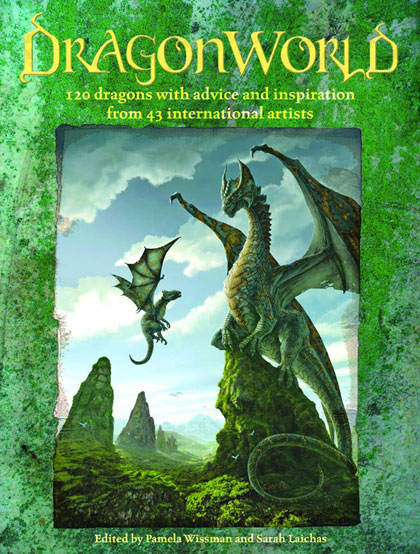 (Don't judge a book by its cover - the art inside is actually much, much better - and even my inexperienced eye can see that...)
So, what about the quality of the art itself? Well, though the art caters to a variety of styles and tastes, it was all of uniformly high quality: from what I've seen, this book is fantastically compiled, and the artists' visions haven't been let down in the slightest. The only flaw I could find was that the interview questions could have been more personalised, to increase the interest of responses - but the art is the main selling point. And put simply, it's wonderful.
This is the epitome of the perfect coffee-table book: to peruse, to flick through, to enjoy in moments - and then to let go til next time.
You can find DragonWorld on Amazon here: DragonWorld: Amazing dragons, advice and inspiration from the artists of deviantART
Or here in the UK:
Dragonworld: Amazing Dragons, Advice and Inspiration from the Artists of Deviantart
Read this book, or plan to? Comment below and tell me!