We've all got our favourite fantasy cities - or, in the case of urban fantasy, real cities with a fantasy twist. Well, this is a new feature I'll be trying: I'll list my picks, and I'd like you to tell me yours, as well! (I'm always looking for reading recommendations as well) So, here are my top fantasy cities - in two different categories:
The Real One: Chicago in the Dresden Files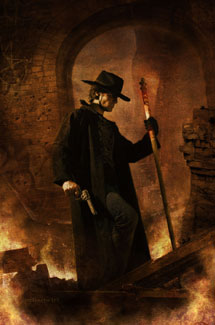 (Yes, the Dresden Files really are this awesome. Well, better)
In the Dresden Files, Chicago changes shape: far, far from reality. The White Court - feeding on emotions - live in uptown mansions, the local church caters to one of the Knights of the Cross, and the tunnels play host to the Winter Fae. And that's not even mentioning the people... By the third book of the Dresden Files, you'll be wondering how normal people even live in this city: it's just that insane. There isn't a dull page in these books, and that Butcher manages to make a real city play host to them is only more impressive. If you haven't read the Dresden Files, you really should: you can find my reviews by clicking on the 'Dresden Files' tag at the bottom of this post.
Storm Front
, the first book in the series, can be found on Amazon here:
Storm Front
The Imaginary One: Darujhistan in the Malazan Book of the Fallen
Darujhistan is the City of Blue Fire: lit on every street by the blue flares of gas from the caverns under the city (which also play host to some rather sizable worms...). Its House of the Azath is inhabited by a Jaghut Tyrant (who would quite like a pet, apparently), its politics are scheming - and apparently manipulated by a sorcerous cabal -, it's home to its very own Guild of Assassins, and it is absolutely fantastic. First seen in Erikson's debut novel, Gardens of the Moon, Darujhistan has been home to some of the Malazan series' best characters at the Phoenix Inn, including Kruppe, a rather oily fence and reputed genius (if only he wouldn't speak of himself in the third person). The Malazan books are among my favourite series, and Darujhistan only makes them better.
So, I've listed mine: what are yours? Comment below and tell me - if I haven't read them, I'm always looking for recommendations for the blog!