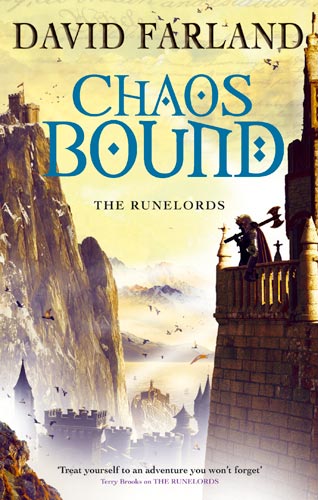 Yes, it's taken a while! But before my review, a quick apology -
Chaosbound
is not the last book in the Runelords series, which I had previously thought it was. Unfortunately, I won't be reading further into this series - a pity, since I loved the first four books and would highly recommend them to anybody in search of an epic fantasy with some morally grey areas as well.
Chaosbound
backtracks from the plot of the previous novels of the Runelords' second arc. Abandoning Fallion and Talon, we return to Myrrima and Borenson, two characters from the first arc changed considerably by time - and now the impact of the binding of two worlds into one. Borenson merges with Aath Ulber, a beserker and a giant among men. Borenson's son, Draken, has also fallen in love with the daughter of some ex-noble squatters on the Borenson estate. However, within a few pages of the two fathers' agreement to co-operate, Walkin is completely decharacterised into a designated antagonist, as he attempts to murder Borenson and his family for salvage. This gives Borenson an excuse to show off his new beserker rage, and for pretty much every other character to become terrified of him, and now even Walkins' daughter regards him as "petty and mean". I particularly dislike this approach to characterisation, especially as the two characters could have presented a more ethically gray argument by co-operating with their different attitudes. Instead, any difficulty is resolved by one attempting to murder the other. As Borenson leaves "Landesfallen" for the mainland, he becomes engaged in humanity's land stand against the wyrmlings.
Compared to the first books, focusing on some definite threats, but also the reactions of humanity,
Chaosbound
is a book painting in black and white, and little else. The wyrmlins have eyes that are "soulless and cruel". In the viewpoint of one of them, they actually aim to do evil. I mean, just how black can you
get
? The world/s have also become a little overmagical for my taste. Now, I like both high- and low-magic worlds, but the Runelords really only worked well with a few magical abilities and creatures: rather than the sort of extreme spells that have characterised the recent novels. I loved the forcibles - irons that could transfer an attribute from one person into another, leaving the first wholly bereft. It was an excellent, simple system that really
worked
in context. Aath Ulber's use of it - to create a "super-warrior" - is completely contrary to the first series, as even Raj Ahten, with thousands of times Borenson's endowments (transfers of attributes) failed. Furthermore, even the ending seems tacked-on.
Ultimately, for me, it's a disappointment. However, some may enjoy the high, slightly mixed-up magic setting, and Aath Ulber's journey through the changed world, but for me, it's a step down from books 1-4. It's still readable and some parts do work well, but overall, it's not a great book for me. :(
4.25/10